Fizik Versus EVO Performance Bike Saddle or Fizik Aliante R3 Versus Evo Saddle is a perfect option if you are looking for a performance saddle. It is made out of high-quality elements. In addition, good-quality foam ensures you feel comfortable on all roads and trails.
Its thoughtful design makes sure you won't feel any pain in long rides at all. Another appealing fact is its decent design. There is no visible stitch on the upper surface which gives it an elegant look. Know more amusing facts in this Fizik Aliante R3 Versus Evo Saddle review below.
Features Of Fizik Versus Evo Performance Bike Saddle
Wing Flex Technology: It features wing flex technology. Meaning it has flexible wings that let your thighs move flawlessly while pedaling.
Carbon-Reinforced Nylon Shell: It features a composite of carbon-reinforced nylon shell that ensures durability and lighter weight.
Pressure Relief Channel: It features pressure relief channel technology. It ensures all put weight on the saddle is well distributed on its surface.
Rain and Sun Protection: The saddle's outer layer is sun and rain-protected. It also provides it longer service life.
Suitable for Chameleon Riders: This saddle is suitable with high body flexibility and zero pelvic rotation type pedaling.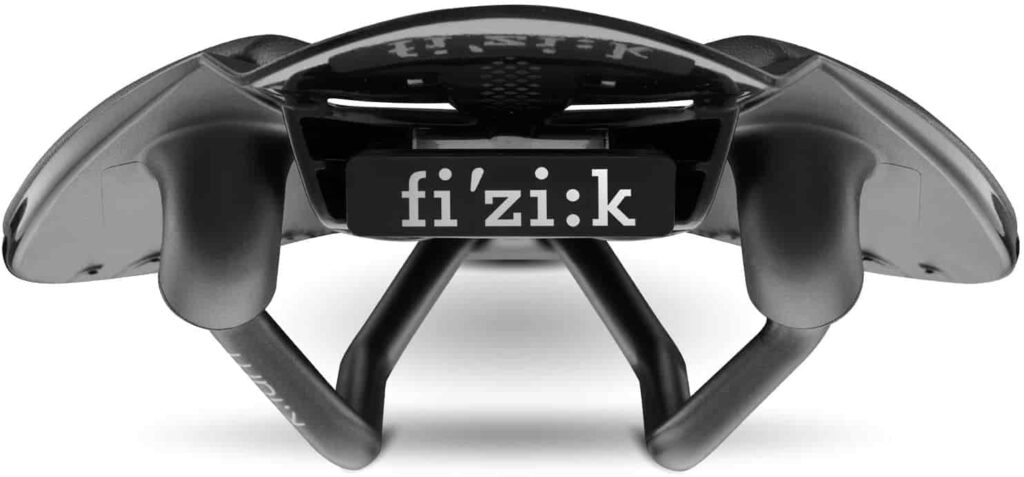 What is difference between evo and not evo?
The "Versus Evo Saddle" series has a pressure relief channel down the center of the saddle. "Non-Evo Saddle" is a standard smooth top saddle without a channel or cutout. The "Open" series has a completely open channel, all the way through the bottom of the saddle, in the center.
Video Review: Fizik Versus Bike Saddle
Specification of Versus Evo Performance Bike Saddle
| | |
| --- | --- |
| Brand | Fizik |
| Size | R3, Regular |
| Item Dimensions LxWxH | 11.77 x 5.2 x 10 inches |
| Weight | 0.47 Pounds |
| Material | Blend |
| Style | Antares, Aliante & Arione |
Pros and Cons About Fizik Versus Evo Bike Saddle
Pros
Good grip on the hip contact surface.
Minimalistic design.
Flexible shell.
Ensure rider protection.
Cons
Not many color variations are available.
Other Saddle Reviews You May Find Interesting