If you are looking for a suitable bicycle saddle that is made specifically for women then you should try this one. Ergon Women's Sm Sport Gel Bicycle Saddle gives great comfort to the rider. No matter how big or small the rider is, it stays comfortable for all. Also, it guarantees you provide every benefit of a good saddle while participating in bicycle sports.
Moreover, this saddle seat is made of durable materials. That's why it lasts much longer and the nylon composite shell can easily handle minor crashes. Here is a short Ergon Sm Women's Saddle review to give you a clear understanding.
Ergon Women's Sm Sport Gel Bicycle Saddle Features
Gel Technology: This awesome saddle comes with anatomic gel pads that are positioned in the hip bone contact area of the saddle. It eventually helps you pedaling comfortably and painlessly.
Gentle Airflow from The Bottom: Its center-cut section is designed to provide gentle airflow to your hip area. Apparently, it reduces sweating and increases comfort.
No Pain in The Woman Area: This saddle is specially designed to prevent getting pain or irritation in the perineum and genital areas.
All-around MTB saddle: Its orthopedic foam with gel gives room to ride a bicycle with the topmost comfort. It also helps you balance your bike on serious moves.
Microfiber Cover: The saddle's microfiber cover protects it from sun damage and easily deals with salty sweats.
Ergon SM Womens Saddle Actual Size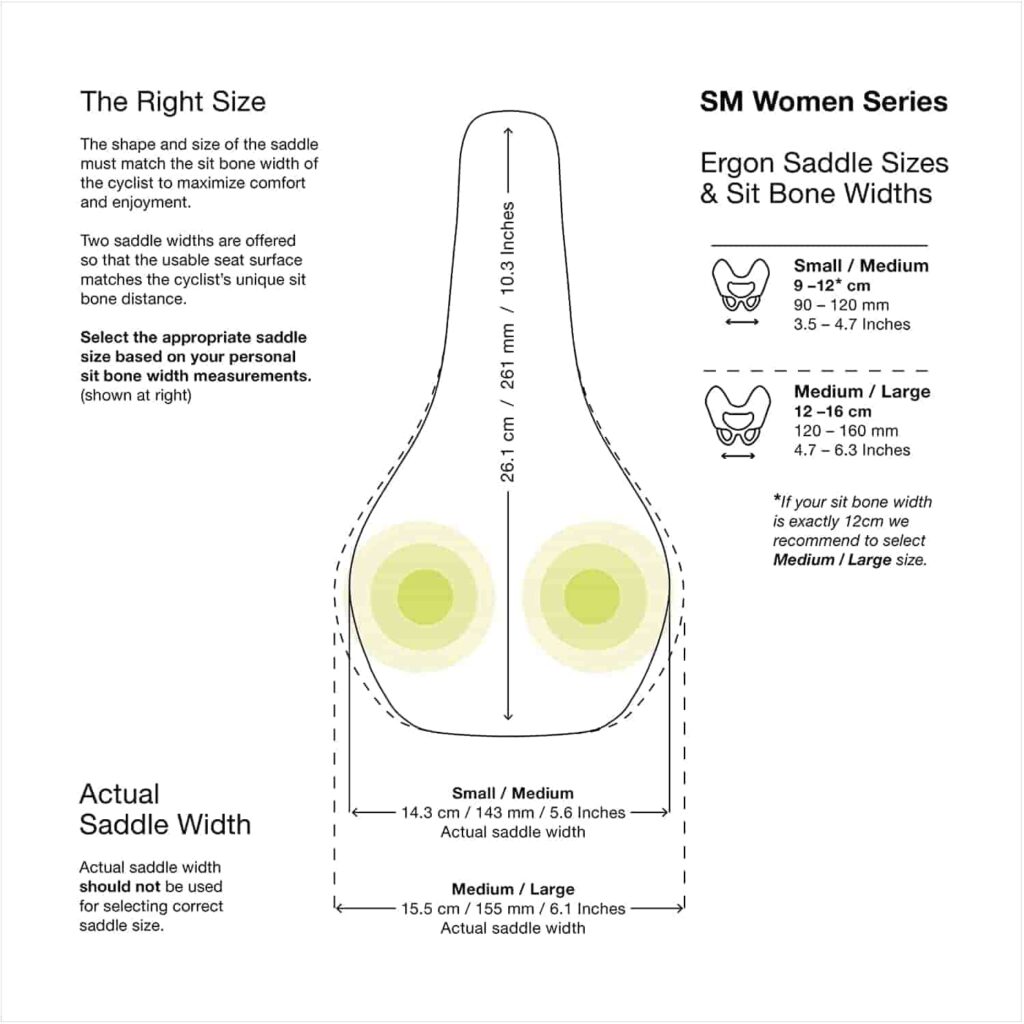 Pros and Cons About Ergon SM Womens Saddle
Pros
• Super easy to mount on the bike.
• Lightweight and slick design.
• It is completely suitable for any riding habits.
• Comes with two years of warranty.
Cons
• It might not be the best choice if you are looking for a much softer cushion for your sit bones.
Related Saddle Reviews
Collegiate All Purpose Saddle Review
Cobb V Flow Plus Saddle Review